Only the highest quality stone at competitive prices
Our Products
KLS Sandstone are specialists in custom sandstone cutting to produce pieces that will stand the test of time.
Our range includes a wide variety of Australian and imported Sandstone, natural Quartzite, Travertine, Snowy River Blue Stone and Bush Rock. We also stock a large selection of sandstone retaining wall logs, sandstone blocks, natural stone cladding and quoin products, pavers, tiles, and much more.
Receive quality expert advice from our master stonemasons, with free quotes and trade and
quantity discounts available.
With over 30 years experience, We ARE Sydney's natural stone specialists.
To choose the perfect look for your next project, come and see our onsite displays and over 5 acres of premium stone in stock at our purpose built facility in Box Hill.
We are conveniently located near the M2 and M7, or can deliver to your door!
Large Range of Natural Colours
Sandstone is a naturally derived material and comes in a wide variety of beautifully intricate colours. Your project will be totally unique thanks to our range of white, pink, brown, yellow and grey sandstones with varied colour banding.
Please note that colours are a GUIDE ONLY. Sandstone is a natural product with variations in appearance and is also dependent on stone available at time of cutting.
View the Range
Our Services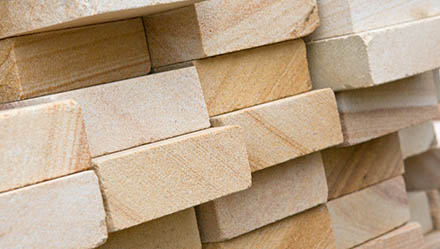 We have our own state of the art sandstone cutting operation on site producing high quality finished sandstone products cut to order and pre-cut standard sized items.
KLS is now capable of a wide range of engraving and relief carving on sandstone with our CNC engraving machine
Testimonials
Kellyville Landscape Supplies provide very fast, reliable, friendly service and very honest. Most of the times that I need stone for my small stonemasonry business, there is a very good chance that Luke is able to help me with their very large variety of stone.
We have been using KLS Sandstone for the past 4 years and have found the staff to be friendly and helpful. KLS Sandstone has been flexible and catered for all our sandstone needs.
We started using KLS approximately 10 years ago for a large award winning residential project in Neutral Bay. We were having troubles during the preliminary stages of the project with another supplier with finding the right coloured sandstone.
We found Luke and his team to be extremely helpful, flexible, honest and their sandstone  to be of a quality required for each individual project. Luke and his team were and have since been more than happy for our clients to visit the yard at any time prior to the commencement of their project to select the particular quarry blocks they wish their stone to be cut from or throughout the duration of the project to check on progress of their stone. One of the most important points about Luke and his team is that, if a problem arises they are onto it promptly with a resolution.
As a result we would thoroughly recommend KLS to supply quality sandstone for any future projects.
KMD The Outdoor Construction Company